Slate worktops and counters
KITCHEN WORK SURFACES AND SLATE SINK WORKTOPS
Brazilian slate has various technical properties which make it ideally suited for kitchen work surfaces and slate worktops, with porosity rating of 99.5% non porous, staining and discolouring will no longer be a problem, unlike wood and marble tops where maintenance can be high, the fine grain and natural makeup of the slate allows large island tops to be made without the need for surface polishing so a natural tactile finish can be achieved but still be practical.
Kitchen work surfaces with provision for 'inset hobs', 'Belfast' or undermount sinks as well as other appliances and facilities can be cut to 'template' or drawing in either black or blue/grey slate. Absolutely perfect for 'wet' environments provision can be made for inset, or freestanding, hand basins and appliances in the bathroom or cloakroom. Different material thicknesses are available, as standard, to suit your application, whilst much thicker product can be simulated by the addition of an edging strip.
We provide a full cutting and finishing service to satisfy the specifications for your custom made slate worktop. The surface of the slate can be aged, edges can be machined to any of the profiles shown on our bespoke page and draining grooves can be cut to provide water 'run off'.Whenever possible we will endeavour to cut a surface from a single slab but where 'jointing' is unavoidable our technicians will select slabs that provide as close a 'match' as achievable
We can manufacture slate worktops to virtually any customised design with bespoke finishes that create a unique finish and look for your kitchen, home or business helping to create a stunning work surface in slate that is totally unique. Do not hesitate to contact us for advice and details of size, shape and finishes for any bespoke or custom made slate worktop design.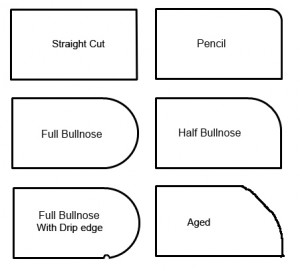 £18.00 to £35.00 per linear m