Slate steps and wall coping
We can supply pre cut slate steps in fixed sized 1200 x 300 and 900 x 300 mm with either a straight or bullnosed edge at a very competitive price.
These same steps can also be use as wall copings, and we can bullnosed both long edges if required.
We are also able fabricate Brazilian steps for stairs made from finest quality Brazilian black and grey slate, which has a lightly riven surface. We can cut steps to clients specifications, using supplied measurements or templates. Just tell us the size thickness and colour required, the edge profile (square, pencil, half bull-nose, full bull-nose or aged) and if a drip channel if required.
Sale!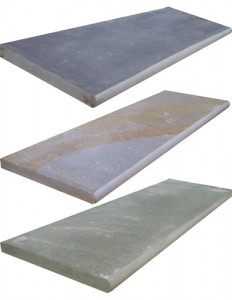 £25.00 - £37.00 per piece
£31.50 - £57.75 per piece